In conversations with business owners, the question of increasing the value of a business always comes up when discussing valuation. One of the twelve steps I use to work with businesses to increase value is to optimize marketing expenses. But as we all hunkered down at home over the last few months and businesses either temporarily shut down or moved online, I wondered how has marketing changed due to the pandemic? I talked to marketing consultants who said there was a big shift to online/digital marketing and a pausing of marketing plans for some small businesses. Others plowed ahead and saw benefits to doing so.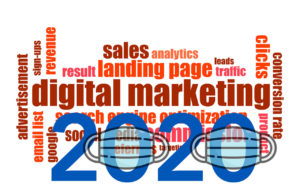 Here's what they had to say:
"Our clients were impacted in a range of ways, but everyone is having to readjust plans in some way," said Barbara Esteves-Moore, owner of Two Roads Communications. Barbara provides marketing services for schools, non-profits and small businesses -- including mine –managing an array of business essentials including website content, public relations, social media content and marketing/advertising plans. "I saw some small businesses slow things down a bit in terms of their marketing plans, which meant they were not doing as much robust marketing or delaying second quarter plans for advertising. But most tried to at least plow through to maintain plans."
Big companies like the Toyotas and State Farms of the world immediately shifted marketing and advertising messages to focus on the pandemic but small businesses needed to move more carefully. Some went into a maintenance mode just doing the bare minimum marketing while others asked themselves, "How should our message change in this environment? Or should it change at all?"
"Everyone is having to say, 'How does my business respond to this?' And it depends on what your business does. Insurance companies, for example, needed to just maintain their services. A data analytics company I work with, however, ramped up because they work to help find fraud, waste, and abuse in healthcare claims. Their business model and their particular services have the potential to grow as companies look to save money on increasing healthcare claims moving forward," Barbara said. "As a small business they answered the question, 'Is there a way we can help others through this process with what we are already doing?'"
Knight Stivender, director of integrated marketing and data analytics at MP&F, works with clients to develop digital marketing plans on a local and national level. She saw similar situations with her clients.
"A lot of people paused what they were doing with us, but others totally leaned in," she said, giving the example of a consumer goods company that decided not to pause its digital marketing campaign during the pandemic.
"They doubled down on all their digital advertising and stood out," Knight said. "They got a bigger share of impressions with their Facebook campaign. More people were looking at their ads because competitors had pulled back."
As some leaned in, those in healthcare-related businesses and private, independent schools had no choice but to shift business online. Their marketing efforts followed. Medical practices using telemedicine shifted digital ads to promote those services while schools recreated admissions marketing around virtual tours and Zoom interviews -- all of which led to the increasing importance of SEO – search engine optimization.
"SEO all of a sudden became really important to small businesses," Barbara said. "Focus shifted to how businesses are represented online from branding to SEO."
"We've had a number of discussions with clients regarding changes to Pay Per Click campaigns as they can easily be scaled up and down to market pressures, but, not surprisingly, few have wanted to interrupt their long term SEO growth plans," said Tyler Krause, founder of Conversion First Marketing. "These kinds of market impacts actually create SEO opportunities that smart business owners have been jumping on."
Knight urged clients to continue running Google ads to keep marketing efforts strong. Such was the case for a client who had to suspend business temporarily.
"The instinct was to stop and save that spending for later, but we advised them not to pause their Google ad campaign because Google is based on machine learning. Pausing the campaign interrupts that learning. It could take months for the algorithms to learn the keywords for what that businesses is doing all over again."
Knight said "big brands got it before" in terms of paid media but small to mid-sized businesses had not pulled the trigger on such marketing dollar spending.
"They knew theoretically that SEO was important," she said. "But they didn't execute it well. What we are seeing now is they are realizing they need to be systematic about their marketing plans, including SEO, paid media and branding. They are dusting off their websites and really seeing the importance of an online presence."
When working with business to measure and grow value, I acknowledge that optimizing marketing expenses is a major step in this process. All businesses need to analyze the effectiveness of marketing dollars to make sure they are getting the best return on their investment.